What is My Home Worth?
Receive a custom evaluation for your home, including comparisons to other homes that have recently sold or are on the market. This guarantees you receive the most accurate information available. To find out what your home is worth, fill out the information below:
Watch this video to see what sets us apart from our competition.
Joe Dias and The Dias Team
    Stress-Free Listing System
• Sell your property yourself, while it is listed, and pay no commission.
The "no commission" does not apply to a buyer exposed to property by myself, my marketing efforts, or by another agent while your property is listed with me. 
• Cancel the listing at any time.
Either you or I can cancel just by calling and saying, "I want to cancel the listing." It's that simple. The cancellation becomes effective from the time you call. However, please allow two (2) business days to have the sign removed and the listing withdrawn from the MLS.
• No advance fees of any kind.
You only pay if I procure an offer that is acceptable to you.
• "No Pressure" presentation.
I will never allow you to be "pressured" by the buyer's agent. All offers will be faxed or delivered to my office, and will be presented to you by phone, so you can make your decisions privately.
A Special No-Risk Offer, Exclusive Offer From
Joe Dias and The Dias Team!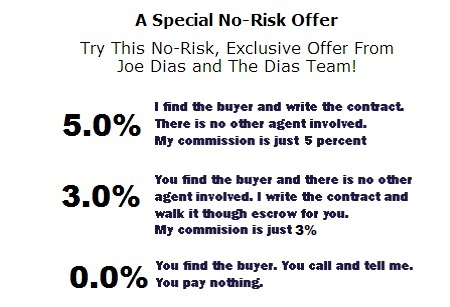 Put more money in your pocket with The Stress-Free Listing System, exclusively offered by Joe Dias and The Dias Team!
Most agents will charge you the same fee
no matter how your home sells ...
even if you find the buyer.
With The Stress-Free System, you have complete flexibility.. from "full service" to "do it
yourself"
   Unconditional Guarantee  
If for any reason Joe Dias and the "Dias Team" does not provide 100% satisfactory service, just let us know, and we promise to remedy the situation as soon as possible. If you are still not satisfied, we will release you from the listing agreement with no further obligation.
Joe Dias and The Dias Team
To find out more about selling your home, click here